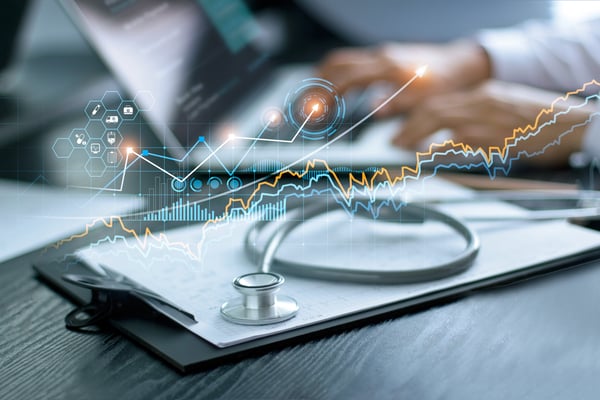 The marketing world has come a long way since town criers were in existence. And although having someone stand outside your place of business and scream at people may get their attention, it's not exactly the most effective way to gain new customers.
Now, many medical companies rely on the power of digital marketing to draw awareness to their business. With more and more aspects of our daily lives becoming digital, it's the most effective way to make people aware that you exist.
And we hate to be the bearer of bad news, but customers (patients) today are simply not walking into every building they come across and inquiring about their services. Therefore, you should take the time to gain a good understanding of why you should be using digital marketing for your medical practice.
But before we dive into this subject, let's take a brief moment to describe exactly what digital marketing is.


What Is Digital Marketing?
Digital marketing, also known as online marketing, is any marketing effort that uses a technological device and/or internet connection to reach an audience. It has become one of the most popular and effective forms of marketing, and uses digital channels such as social media, email, and search engines to leverage a business's ability to market effectively.
If you've ever once in your life been on the internet, then you likely were exposed to some form of digital marketing, whether it was a blog you read, social post you liked, or an ad that you ignored.


5 Reasons Your Medical Practice Needs Digital Marketing
Now that you fully understand what digital marketing is, you may be wondering why your medical practice would ever need it. If any (or all) of the following 5 statements describes you and your medical practice, then you should consider using digital marketing:
You don't show up in search engine results
You struggle with patient retention
You need to target specific conditions in patients
You need to lower your cost per patient acquisition (CPA)
You're not using data to make business decisions


You Don't Show Up In Search Engine Results
This is the most general reason that any medical practice needs digital marketing. In fact, it's the reason that most businesses everywhere need digital marketing.
If your potential patients can't find your medical practice with a quick Google search, then you're already behind most other businesses in the same field.
If you know for a fact that the majority of your patients are going to be local, then you will at the very least want to add your practice to Google My Business. This will help show your business to all of the "near me" searches that occur within a set radius of your business.


You Struggle with Patient Retention
Perhaps the most important traits for any type of product or service to possess in today's world is convenience and ease of use. And by maintaining an active medical marketing strategy alongside a reliable, up-to-date, and user-friendly website, you'll be encouraging current patients to return.


You Need to Target Specific Conditions In Patients
One of the biggest advantages that digital marketing offers over traditional marketing is that it allows you to concentrate your efforts on specific audience groups. This can be as specific as:
Medical condition
Age
Gender
Demographic
Zip code
Not only does this help you reach your ideal audience, but it also cuts back on the cost of marketing to people who are not applicable or interested in what you have to offer.


You Need to Lower Your Cost Per Patient Acquisition (CPA)
Patient CPA is one of the biggest pain points in the entire medical industry. And this is an especially big hurdle for small startup practices that don't have as much room for error in their budget.
And surprisingly enough, it costs companies more to advertise in print and TV sources, despite the fact that they are not nearly as effective.
Making the switch to digital marketing can help you cut back on your marketing costs significantly. And the less it costs you to acquire new patients, the higher your profit margin will be.


You're Not Using Data to Make Business Decisions
If you're using traditional marketing, or even no marketing at all, then it's going to be really difficult to track and collect data that can be used to improve your marketing and business operations.
This is where digital marketing reigns supreme. Depending on your marketing platform, you'll be able to collect data and other insight on the type of audience you're reaching, how they are responding to your marketing strategy, and how you should make adjustments to improve your interaction rate.
For example, if you're running a social media campaign through LinkedIn, but find through your gathered analytics that the majority of your target audience is using Facebook, you can adjust your budget accordingly and branch out to other platforms. Once you do this, you will begin collecting new data again, and can measure whether or not your adjustment was successful.


Digital Marketing Tools Your Medical Practice Needs
Digital marketing is accompanied by an abundance of useful tools. And for the sake of time, we will only highlight 4 of the most useful digital marketing tools that your medical practice needs to use:
Google My Business
Content marketing
Social media marketing
Email marketing


Google My Business
As mentioned above, using Google My Business is a great way to be shown not only for local searches, but for anyone who is looking up your business. This snippet can provide searchers with your business name, address, phone number, hours of operation, and so much more.
Customer reviews are also a great way to naturally increase sales (unless your reviews are tanking, in which case a lack of digital marketing doesn't sound like your primary issue).


Content Marketing
When it comes to digital marketing, your content is king.
Content marketing is one of the most effective and budget-friendly ways to drive traffic to your website. And the word "content" encompasses many different aspects of your site, such as:
Blog posts
Web copy
Images
Videos
Graphics


Social Media Marketing
This may go without saying, but the majority of your patients spend a considerable amount of time online. And a good chunk of this time can be attributed to social media.
As a result of this trend, social media marketing has become one of the most effective ways to reach your target audience. And if you're actively posting and sharing your content, it will give your audience a sense of trust that you are accessible around the clock.
Bonus tip: Sharing reputable third-party content is a good way to earn backlinks to other sites. Just be sure to share your own content as well, as you don't want to be sending all of your potential customers elsewhere.


Email Marketing
Email marketing is a great way to keep your patients in the loop on any company announcements, process changes, or general information that you want to share.
Email marketing is one of the more affordable digital marketing methods. Just be careful with how often you send out emails, as you don't want all of your contact list to block you for spam.


Digital Marketing Is the Cure
Hopefully this article has helped you better understand the importance of digital marketing for your medical practice, and has encouraged you to start (or improve) your efforts!
Always remember that the secret to being successful with your digital marketing efforts is to understand your audience and what their intent is whenever they make an online search. By understanding this, you will be well-equipped to begin generating new leads and potential patients.
If you're not sure where to get started, it never hurts to speak to a medical marketing agency. In fact, we would be more than happy to answer any questions that you may have. Feel free to reach out with any questions you may have.