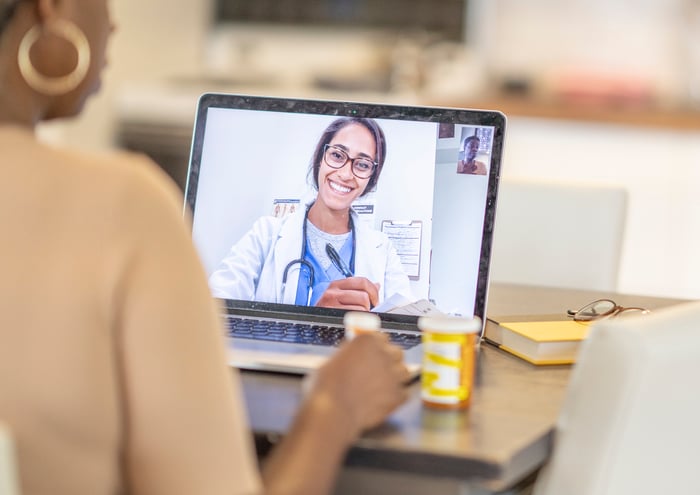 If there's one positive thing that we can say about the COVID pandemic, it's that it showed the world just how equipped we are to effectively conduct our jobs from the safety and comfort of our homes. For some things, at least.
And one of the top services that emerged from the pandemic fog is telemedicine technology. Not only has this helped provide patients with safer and more convenient care, but it's actually helped private medical practices to cut back on their total monthly spending as well.
But what exactly is telemedicine, and how does it provide these benefits for both the patients and caregivers? Keep reading below to find out.


What Is Telemedicine?
Telemedicine, also known as telehealth, is the distribution of health-related information and services through the use of telecommunication technologies. This method is great for long-distant patient contact and care, as well as helping stop the spread of infectious illnesses in your medical office.
And the idea of telecommunications technology is nothing new. In fact, some of its earliest usage can be traced back to the late 1960s when NASA used it. However, multiple barriers stood in the way of widespread adoption of the technology for it to become mainstream back then. But thanks to rapidly-evolving communication technology, and the COVID-19 pandemic, telecommunications have become prominent in several industries, especially in the medical field.
Today, several medical practices across the country are using telemedicine services to cut back on their overhead expenses and reduce costs for their patients'.


Using Telemedicine to Consolidate Overhead & Reduce Practice Expenses Post-COVID
Now that you have a good understanding of what telemedicine is, it's time to take a closer look at the ways in which it helps medical practices consolidate their overhead and reduce their total practice expenses.


Consolidating Overhead
Overhead operating costs can add up quickly, and can be extremely burdensome for small or newer medical practices. Luckily, telemedicine can help alleviate this pain point.
By working to reduce the amount of time that clinicians are spending in your physical practice site, you will naturally be reducing the overall costs of utilities, such as gas and electricity consumption. This can add up in a big way for medical facilities who are heavily adopting telemedicine solutions.
The use of telemedicine can also help eliminate the need for on-site follow-up visits for several patients. This frees up additional time and allows you to schedule more appointments with patients, especially those with higher-revenue reimbursement opportunities.


Reducing Practice Expenses
Perhaps the biggest advantage that telemedicine technology can offer your practice is reduced expenses. And this is applicable in many ways.
First and foremost, the use of remote analysis, monitoring, and electronic data storage can all have a significant impact on your service costs. Not only does this save you money, but it helps put money back into the pocket of your patients and insurance companies as well.
Telemedicine is also effective at reducing the number of non-urgent and unnecessary trips to the ER, eliminating the cost of those transportation services' regular checkups.


Acceptable Telemedicine Platforms
An important thing to remember about telemedicine and the communications that come with it is that you still need to maintain HIPAA compliance.
For obvious reasons, don't ever livestream or conduct your telehealth communications in a public area. Ensure that you are isolated with no chance for disruptions or information leak. Not only is this important for compliance, but it's best practice for looking professional as well.
Some acceptable telehealth communication platforms include:
Google Hangouts
Zoom
Skype
Whatsapp
Jabber
Signal
Facebook video chat
iMessage


The Future Is Now
If you're not taking advantage of telemedicine communications yet, then you may be curious as to how you would get everything set up and running. A great place to start is with healthcare practice management services.
So what are you waiting for? Keep up with the fast-moving medical industry and start reducing your medical practice costs today with the implementation of telehealth communications.
Not sure where to start? Feel free to reach out, and we would be happy to help guide you.