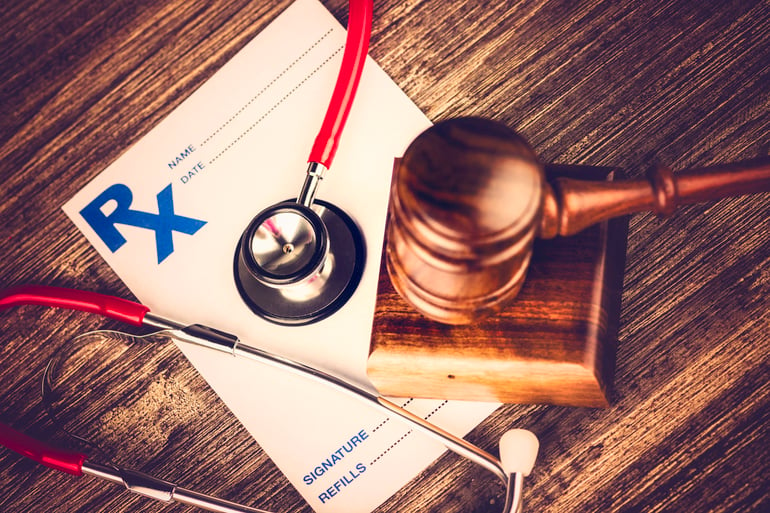 The Physician Self-Referral Law, also known as Stark Law, bans physicians from referring patients to "designated health services" payable by health coverage programs such as Medicare or Medicaid with which the physician or an immediate family member has a financial relationship (unless a rare exception applies).
What Is Stark Law & How Is It Violated?
In short, Stark Law says you cannot refer patients to other health care professionals in exchange for anything of value. The law is intended to protect patients from unnecessary procedures and medical bills. It applies to privately owned medical practices as well as larger medical care providers.
Stark Law Violations Can Result In:
No billing
Payment refunds
Denial of payment
Fines up to $15,000 for each questionable service rendered
Exclusion from government and state healthcare programs
Penalties of up to $100,000 for attempting to circumvent Stark Law
The following companies in these stark law cases knew what they were getting into. Let's see where it got them.
Nine (Expensive) Stark Law Violation Examples


Allegations:
Violating the False Claims Act by maintaining improper compensation arrangements with referring physicians and miscoding claims
Submitting bills to Medicare for its employed physicians' professional services containing certain improper coding modifiers, and thereby obtaining greater reimbursement for these services than they were entitled to
Final payout: $115,000.00


Allegations:
Violating the False Claims Act by paying or receiving bribes in connection with claims to the Medicare program

Having agreements with Diagnostics Physician Group (DPG) to pay the group a percentage of Medicare payments for tests and procedures referred by DPG physicians

IMC agreed to pay DPG a share of the revenues the clinics collected, including Medicare revenues from diagnostic imaging and laboratory tests
After IMC acquired the IMC-Northside Clinic in 2008, the physicians practicing there joined DPG and entered into an agreement with the same key terms
An attorney for DPG warned employees of both IMC and DPG that this arrangement likely violated the law, but the agreement wasn't terminated
Final payout: $24,500,000.00



Allegations:
Illegally billing the Medicare program for services referred by physicians with whom the hospital had improper financial relationships


Entering into contracts with various specialist physicians that required the physicians to refer their outpatient procedures to Tuomey in exchange for bribes
Completely ignoring warnings from attorneys that the risky physician contracts raised a lot of red flags
Filing over 21,000 false claims with Medicare
Final payout: $237,000,000.00


Allegations:
Maintaining illegal financial arrangements with community-based physicians and physician groups.


Maintaining ninety-seven financial arrangements with physicians and physician groups that did not comply with the Stark Law
Five illegal arrangements with its former chief of staff ranging over three years
Ninety-two financial arrangements with community-based physicians and practice groups that did not satisfy an exception to the Stark Law because written agreements were either expired missing signatures or could not be located
Final payout: $3,200,000.00


Allegations:
Submitting costs reports to Medicare seeking reimbursement for charges WMC did not incur

Maintaining a financial relationship with Cardiology Consultants of Westchester, P.C. ("CCW"), a cardiology practice formerly operating on WMC's Valhalla campus

Advancing monies to CCW to open a practice for the express purpose of generating referrals to the hospital

Entering into retroactive, no-work consulting agreements under which it paid CCW tens of thousands of dollars

Permitting CCW to use WMC's fellows in CCW's private office free of charge, contrary to WMC's historic practice

Wrongly seeking and obtaining reimbursement for certain costs that WMC did not incur and that were not reimbursable under the relevant cost-reporting rules
Final payout: $18,800,000


Allegations:
Knowingly paying certain physicians salaries and bonuses that were above fair market value and in violation of the Stark Law and the Anti-Kickback Statute

Upcoding Medicare billings for E&M patient visits in order to obtain larger payments than allowable for the services actually provided

Billing for cardiac rehabilitation therapy provided by a physician who was not properly supervising the therapists providing the services
Final payout: $2,900,000


Allegations:
Medicare and Medi-Cal fraud scheme arising from their former ownership of the Los Angeles City of Angels Medical Center

City of Angels paid "recruiters" employed at homeless shelters in the skid row area of the city to deliver their homeless clients by ambulance to the hospital for medical treatment regardless of whether their clients in fact needed or requested such treatment

City of Angels would then bill the Medicare and Medi-Cal programs for a variety of medical services allegedly rendered to the homeless patients, many of which were not medically necessary
Final payout: $10,000,000


Allegations:
Paying unlawful remuneration to doctors in exchange for referring cardiac patients to The Christ Hospital in a pay-to-play scheme

Limiting the opportunity to work at the Heart Station – an outpatient cardiology testing unit that provides non-invasive heart procedures – to those cardiologists who referred cardiac business to The Christ Hospital

Cardiologists whose referrals contributed at least two percent of the hospital's yearly gross revenues were rewarded with a corresponding percentage of time at the Heart Station, where they had the opportunity to generate additional income by billing for the patients they treated at the unit and for any follow-up procedures that these patients required

Claims submitted to Medicare and Medicaid as a result of this illegal kickback scheme constituted a violation of the False Claims Act
Final payout: $108,000,000


Allegations:
Referring patients to a cardiology clinic for lucrative but medically unnecessary procedures

This includes surgery and interventional procedures

Receiving payments above fair market value, for services not rendered, or that were entered into in exchange for referrals
Final payout: $22,000,000


Stark Law Violations | $541.4 Million in Total Fines From Just 9 Cases
Want to read more medical non-compliance stories? Check out this article on Social Media HIPAA Violations. You can also grab the HIPAA Compliance Checklist to review compliance for your practice.
Not sure if your practice is compliant? Contact us for a free practice analysis to identify any compliance & liability issues.
[Editors note: This blog was originally published in Jan of 2022 and was updated in September 2022 to reflect current and updated information]