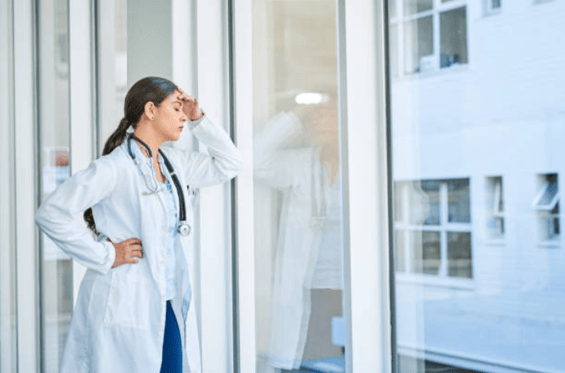 As a physician, you play a pivotal role in your community. You and your team are responsible for keeping everyone healthy, and the weight of your daily responsibilities can take a toll on your mental health and well-being. Loss of passion at work, feeling mentally drained, and not feeling like you're achieving your goals - these (just to name a few) are some of the challenges that physicians just like you can face. These feelings can lead to weariness, and even worse, burnout.
What to look for
Physician burnout does not discriminate. It can happen at any point in a physician's career, ranging from medical school up to retirement. It's important to know the symptoms of burnout and, with a little self-awareness, you may be able to sense the emotional and physical signs and seek out help. Signs of burnout to look out for include:
Constant negative outlook
Feeling emotionally and physically drained
Feeling defeated with no sense of accomplishment
Loss of urgency about your responsibilities
Change in appetite and sleep patterns
Coming to work late and/or leaving early
Putting your tasks on the back burner and procrastinating
Separating yourself from colleagues
Not feeling satisfied with your career
Lack of patience with colleagues and/or patients
Ways to fight it
It's critical to address burnout as early on as possible, and there are effective ways to cope with symptoms. Listed below are some best practices to help overcome the feeling of being burnt-out:
Know your limits - It's important to set your boundaries and delegate work as needed. Focus on spending your time with patients and rely on your office staff and management team to assist with the unavoidable everyday tasks.
Keep a healthy work-life balance - Be sure to carve out some time for yourself, especially after a long hectic work week. Also, take time off when needed (vacations, mental health days, etc.).
Find dependable practice management support

- Practice management systems are designed with the physician in mind - to help automate your practice to run seamlessly. Practice management partners work with your internal team to operate and manage the day-to-day processes of your practice to help alleviate the headaches and challenges caused by administrative tasks.
Summing it all up
You should have a sense of accomplishment about your medical practice and not feel weighed down by burdensome tasks. You may not be able to control the causes that trigger physician burnout, but you can control how you and your team react to them. If you maintain an efficient and fluid workflow, along with a healthy work environment, avoiding physician burnout won't be as daunting as it may seem.
For more tools and resources on how 99 Healthcare Management can help you avoid physician burnout by controlling the daily stressors of running a business, managing personnel, tracking inventory, and navigating regulatory issues, please contact us at 972.792.5700.