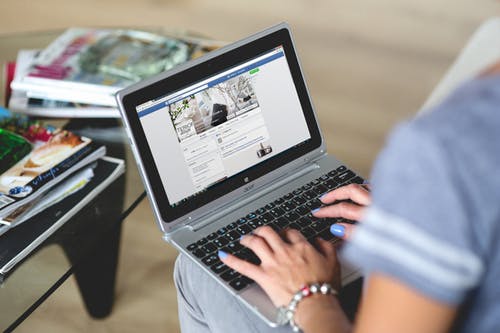 You've heard all the facts; over 40% of consumers use social media to help make health-related decisions, and 60% of doctors stand by using social media to help improve the quality of patient care. It's time to get your practice up to date with how patients want to consume information!
Now that you've decided that social media could be a valuable tool for your healthcare practice, it's time to start learning how to use it as one (while still adhering to HIPAA guidelines).
We've compiled the 10 best tips on social media marketing for healthcare professionals, so let's dive in!
1. Develop an online personality for your practice
How you choose to portray yourself on your social media accounts is crucial. Do you want to be a cold, hard facts kind of persona? Or, maybe a more playful, but professional voice suits your practice the best.
Deciding how you want to sound to your followers is the first step in starting to use social media as a marketing tool, and it will help you stand out in a sea of healthcare accounts.
2. Provide content that users can't find elsewhere
Great news! You already have an advantage here! Medical practices are full of professionally-trained staff who are as up to date with current information as it gets. No need to hunt for experts, just look around your office.
Sharing educational multimedia content is a great way to engage viewers and help combat the self-diagnosis epidemic. If there is a current event that your practice has the knowledge to share about, you could not only help refute common misconceptions, but also potentially drive new patients in!
3. Advertise!
Your practice is a business, just like any other. You're trying to sell a service, and in order to do that as efficiently as possible, you have to advertise.
A social media account is (usually) a free way to promote your brand to lots of potential patients! While you shouldn't only post about people coming to your clinic, it is perfectly okay - and even encouraged - to advertise your services on your account.
Most social media platforms offer promoted post options where you can create an advertisement and select a budget so you don't spend more than you like. If you aren't looking to allocate budget towards promotion, you can still share regular posts advertising your business for free.
4. Engage with relevant accounts
One of the easiest ways to amass a larger following is to engage with other relevant accounts. This could mean other practices in your health network, or even outside of it. Physicians' professional social media accounts could be another source for new followers.
Looking for relevant accounts to follow? Try checking the followers of those types of accounts we covered before! It's likely that they are connected with accounts that could be beneficial for you as well, so that's a great place to start when first building up your following.
Once you have some sort of feed of content from accounts that matter to your business, try sharing some of their content, or even just leaving a like or a comment. This could lead to new followers, or at least an interaction with a new connection.
(While you're at it, give us a follow! We're on Twitter, Facebook, and LinkedIn.)
5. Consider a Social Media Management System
Running a healthcare practice is a lot of work! Between all the records, forms, and patients, it can be hard to find time to run a truly active social media account, let alone multiple. One easy (and potentially free) way to do that is to use a social media management system.
Platforms like Hootsuite and Tweetdeck can make planning and scheduling social media posts way easier. These tools allow you to schedule posts in advance across multiple platforms, all from one place!
Social media management tools can save you time and allow you to be more organized with your social accounts by consolidating the process to one site, rather than each separate platform.
6. Use #hashtags
A really easy way to catch the attention of a lot of people about a particular topic is to include a relevant hashtag in your social post.
Social media users can track hashtag usage and view any post that contains a specific hashtag with one click, so using hashtags you know people in the medical field are looking for will automatically make you more visible.
Make sure any time you use hashtags in your posts that they are extremely relevant, because spamming people with too many hashtags will make them less likely to follow your account.
7. Celebrate relevant holidays
One of the easier and more fun ways to use your social media account as a business, is to show how you celebrate your people! There are so many national holidays for people in the healthcare field, and these are perfect opportunities to share photos or posts.
From National Doctors' Day (March 30) to National Nurses Week (May 6-12th), there are countless opportunities to show your support for the people and causes your practice supports.
These holidays are also a great opportunity to start using hashtags, as most national holidays have an accompanying hashtag, so you can become a part of the conversation.
8. Behind the scenes content
Doctors' offices can sometimes feel very mysterious. Most people have no idea what goes on outside of the exam room, so it could be an opportunity to make potential patients more comfortable with your practice to share a little bit of what goes on behind the scenes.
Obviously, there is a lot that can't be shared because of HIPAA regulations, but sharing what you can will help familiarize people with your staff and practitioners and could make them more likely to want to utilize your service.
9. Share practice updates
Social media platforms are where the vast majority of people are looking to get information about healthcare. More and more practices are using their social accounts as a way to share information about their business because this is the new norm.
With access to a major following, it is important to share accurate information, and to inform people of major updates as quickly as possible.
If for some reason your practice is going to be closed early one day, it is very fast and easy to share on social media, and followers will appreciate that they are getting the most up-to-date information as possible.
10. Maintain HIPAA Regulations
The most important thing to remember when managing social media accounts for any kind of healthcare practice is to adhere to HIPAA guidelines at all times. These rules are non-negotiable and can get your practice shut down if they are violated.
There is certain information that medical professionals simply cannot share in order to protect patient confidentiality, so make sure anyone with access to your practice's social media accounts is fully aware of that.
Violating HIPAA on social media will create a world of trouble for your practice that could easily be avoided. For more information on these regulations and how to stick to them, check out this blog post.
The takeaway
Social media is an extremely useful tool that can provide all kinds of benefits for your healthcare practice. So long as you follow these tips and all the HIPAA regulations, you should be on your way!
For more information on social media marketing, check out this post on The Top 3 Benefits of Using Social Media in Healthcare Marketing.