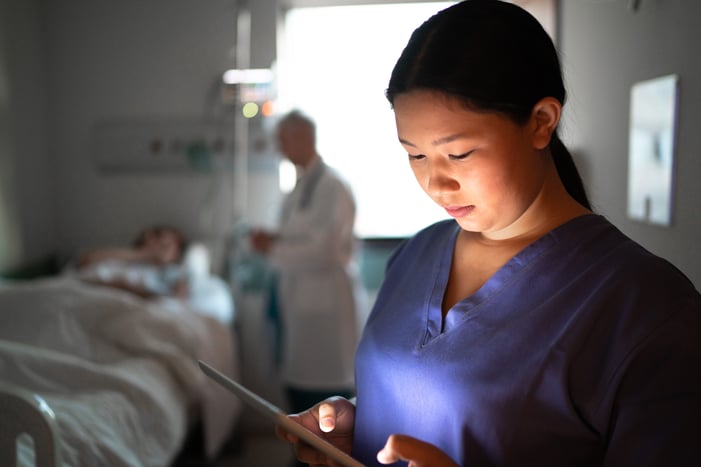 Medical care is necessary to prevent diseases and improve quality of life. With many doctors offering a wide range of treatments, additional staffing is required to ensure smooth and timely interactions and services for every patient. In many cases, the role of a Medical Assistant extends beyond checking vitals and updating medical histories.
With the plethora of in-office health care services available, more doctors are searching for medical assistants (MAs) to join their staff. The US expects above-average demand for MAs at a projected increase of 16% from 2021 through 2031.
Many doctors are starting to realize that medical assistants are the face of their practice and can improve customer service and patient/doctor relationships.
Most medical assistants work in a physician's office (58%,) while the remainder work in hospitals (15%) and outpatient care centers (9%). With the heightened demand for MAs and the steady increase year over year, a career in medical assisting offers job security and also career advancement.
Duties of a Medical Assistant
Both physicians overseeing a small practice and specialists working in a bigger healthcare system recognize the importance of tasks completed by a medical assistant.
As a physician, you need a reliable and sympathetic liaison representing you to each patient. A medical assistant handles various tasks related to patient interaction, including recording medical histories, prepping a patient for their exam, explaining any procedures you may advise for treatment purposes, and providing instructions on medications, specialized diets, and testing procedures.
Medical assistants are crucial for physician assistance during an exam and to help prepare and administer medications.
For required lab work, a medical assistant often collects and prepares specimens before handing them to the lab. This can include samples requested for urinalysis and phlebotomy for blood work orders from the physician. MAs also administer injections, handle wound care, and perform basic tests such as heart monitors and strep tests. While responsibilities can vary from practice to practice, any duties delegated to medical assistants free up the doctor's time for one-on-one patient interactions.
When it comes to the paperwork aspect of medical practice, we all know how time-consuming these tasks can be. A medical assistant saves you time and hassle by handling medical record updates, phone calls, scheduling appointments, and any bookkeeping and correspondence.
An MA can also act as a liaison between a hospital's admissions department or lab services vendor and the office where they work.
Differences Defined | Patient Care Tech vs. Medical Assistant
There are a variety of terms for medical professionals who are among the support staff for physicians in a medical facility. For some, the difference between a patient care technician and a medical assistant may be tough to untangle. Here, we attempt to do just that.
Patient Care Technician Education and Duties
A Patient Care Technician (PCT) focuses more on basic care and support. This could include assistance to the bathroom or with meals or bedding. It also may mean providing emotional support to patients and families alike.
A PCT may also be required to monitor vital signs, educate the patient and any loved ones on treatments, and interact supportively. PCTs may also have to practice Phlebotomy or be involved in Dialysis for patients.
A PCT may have a high school diploma and typically is required to complete a certification program. They are found in a variety of healthcare settings but not typically in a physician's office.
Medical Assistant Education and Tasks
A medical assistant is not required to obtain a college degree, but typically MAs have pursued secondary education in some form. That may be through a 12-month specialized program.
Medical assistants help patients during check-in, throughout their visit, and at check-out by helping them schedule their next appointment. MAs also provide contact information on any specialists the doctor refers them to.
MAs also handle a lot of the administrative tasks, which PCTs do not. The job of a PCT involves more interaction with a patient requiring extended care, while an MA may be more well-versed in the routines of the medical practice and how to keep it running smoothly. An MA oversees the entire process of a patient's journey during a visit to their medical provider.
10 Benefits of a Medical Assistant Career
In addition to maintaining smooth operations at local doctors' offices and outpatient care centers, medical assistant careers also have many benefits to the individual. These include:
The medical profession requires compassion and understanding, as well as a thorough comprehension of technical and sometimes complex procedures and treatments. While MA careers are challenging, they come with many rewards as well:
1. Flexibility in Work Location
Typically, medical assistants are found in physician's offices, hospitals, or outpatient care centers. In some cases, MAs can find their place in the work-from-home movement. Medical assistant positions also offer remote opportunities if the applicant is willing to handle more of the administrative tasks and leave the client-facing tasks for their on-site counterparts.
Some MAs even opt for remote contracts and work in a different state than where they live. Depending on the expectations and guidelines of the state, and the length of the contract, remote contracts can be attractive, temporary employment for MAs looking to broaden their work experience and gain new skills.
2. Ability to Specialize or Generalize
Medical assistants can choose to focus on a specific area of the medical field or learn about the general ins and outs of treatment and patient care that can be useful in a variety of areas.
Those who wish to know how to do a lot in the medical field may benefit from working in a smaller physician's office. This type of consistent environment typically has a small team of staff members and relies on its medical assistants to complete any number of tasks.
Meanwhile, those who prefer to have a smaller variation of jobs to handle may prefer working in a larger medical facility, where tasks are delegated differently and specific responsibilities are defined. In a larger facility, your workday is based on the area of the facility where you are working. Limiting your experience to the specialty and function of that department.
3. Career Field Projected to Grow Substantially
Over the next 8-10 years, the medical assistant career is expected to grow by 16%. This is a much higher rate of growth than other comparable fields.
This rate of growth is attributed both to technological advances and the increasing age of the population in general. To address the need for care and the fact no one likes to travel too far to see a medical professional, several new offices are predicted to open and will require staffing.
4. WHOM Do Medical Assistants Work With?
The short answer: a team. In reality, medical assistants are the right hand of the physician during patient exams and some in-office procedures. They help assist with various tasks and reduce the time a patient spends in the office. MAs also help make the patient feel at ease and improve their patient care experience.
They also assist the other office staff in various tasks. Oftentimes, medical assistants work with nurses, nurse practitioners, and physician assistants as well as physicians.
5. Interactions with Patients
Medical assistants have the chance to bond with the patient and provide reassurance during a potentially stressful visit. Many patients are even more willing to share information about their lifestyle and health concerns with the medical assistants in the office than with their physicians.
6. Variety of Work Tasks on a Daily Basis
While the difference between a specialist and a generalist MA can mean a difference in the variety of tasks, it's fair to assume that handling any day-to-day medical issues will be far from run-of-the-mill in any setting. There is often an opportunity to choose between administrative functions and patient-facing interactions and find the balance that suits you best.
7. Real Work Experience Begins Before You Graduate
While studying to become an MA, internships put you in the thick of the action. This provides an honest look at the career you have chosen and lets you see if you are ready for the tougher aspects of the job. It also provides experiences that will direct you to the healthcare setting and specialty area that best fits your interests and professional goals.
Most people do not experience a day in the work life of their career until they have graduated from postsecondary education. This means MAs have an advantage in their career pursuits by gaining first-hand job experience before graduation.
8. Short Training Period, Limited Educational Requirements
Training for a career as a medical assistant can range from a period of nine months to two years. However, when compared with four-year degrees and the education path a nurse, physician assistant, or doctor is required to take, this is a shorter period of training required to enter the healthcare field.
This also means less debt related to education.
9. Income Stability with THE Opportunity to Make More
Medical assistants are a necessary part of any practice. With most doctors' offices having a full lineup of patients, medical assistants, like nurses and doctors, enjoy heightened job security.
This may mean long hours at work, which can be a stressor, but also means financial stability. And for those who like to change jobs to gain more experience and improve their wages, a career as a medical assistant offers endless opportunities.
10. opportunity to Educate

As a medical assistant, the personal relationship you develop with the patient can provide an opportunity to educate them. That means not only explaining the basics of the exam, but also any treatment options and the procedures for each one.

Physicians benefit from MAs in the role of educator, as the MA can cut down on the time a physician spends answering questions. The MA also benefits from the hands-on, in-office experience of interacting directly with patients. Medical assistants can choose to further their education to become a nurse or other medical professionals and benefit from the strong foundation built by their day-to-day experiences in a healthcare setting.
---
See Our Careers Page for any available openings.
---
Final Considerations for An Aspiring MA
Becoming a medical assistant means dealing with some regular stresses and concerns. However, with some attention to detail and skill development, the career field can provide work-life balance and a high level of satisfaction.
Seeing others who are suffering - and recognizing that you are regularly exposed to illness in your work environment - can cause stress. Likewise, the long hours you may have to work as a medical professional can be draining. Finally, consider the sad reality that many careers come with the potential for burnout. Working as an MA is no exception.
However, as a balance to the cons of the career path, here are some tips to help you find success in your employment:
Develop strong time management skills: Find the best routine for the tasks you have to accomplish during the day and work hard to get them done in a timely manner. This allows you to budget for unexpected issues that arise, and it puts you at the advantage.


Be Organized: Similar to finding the right schedule, it is crucial to know where everything you might need is and make sure to return it to that location. In medical practice, that can be helpful in an emergency and just as a general method of stress reduction.


Educate Yourself: It is a good idea to learn all you can about the practice where you work and the physician you work for. This allows you to develop a strong foundation for interactions with patients and reduces your risk of misrepresenting the practice in some way.


Maintain a Positive Attitude: Studies have shown that a positive attitude can make the difference between enjoying life and suffering from stress. It also can reduce the risk of burnout. Find the good in any situation, and you can share that positivity with others.
Medical Assistant Career Advancement


The demand for medical assistants is real and not likely to decrease in the next decade. This means the path to medical assistant career advancement is a strong one, both now and projected to remain so.
Medical assistants provide a crucial service in physicians' offices, hospitals, and outpatient care centers. If the duties and strategies sound appealing, this may be the career path to choose.